Nuclear Moratorium: 'I' for India Comes After 'G' for Germany?
London, UK - 1st April 2011, 15:20 GMT
Dear ATCA Open & Philanthropia Friends
[Please note that the views presented by individual contributors are not necessarily representative of the views of ATCA, which is neutral. ATCA conducts collective Socratic dialogue on global opportunities and threats.]
A top Indian scientist and government advisor, backed by more than 50 prominent figures, has called for a moratorium on all future nuclear projects following the nuclear crisis in tsunami-hit Japan. Dr P Balaram's call marks the first direct appeal from within government circles for a temporary stop to nuclear power plans and production and comes a day after prime minister Manmohan Singh sought more transparency, accountability and transparency from the Indian nuclear establishment. Dr Balaram's demand for a moratorium -- stopping nuclear power production for the time being -- is likely to pressure the Indian government because of the strategic positions he holds..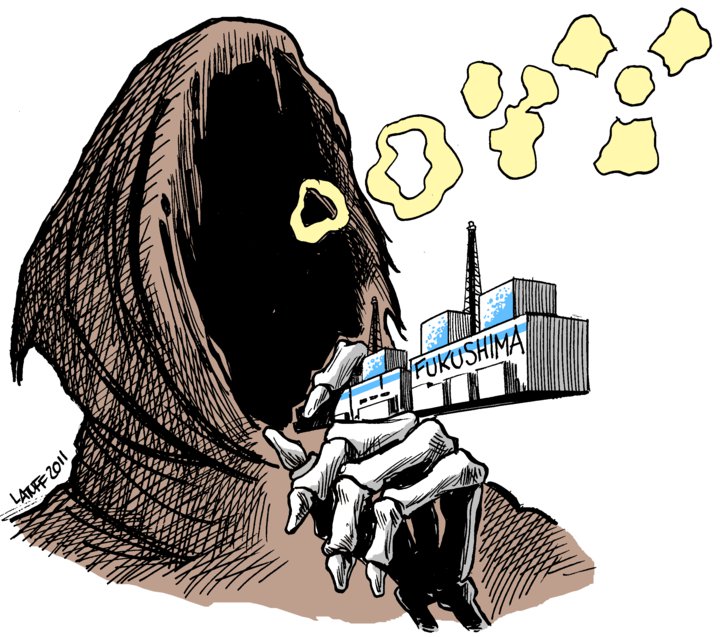 Radioactive Smoke Signals
German Nuclear Moratorium
Though most countries have announced safety reviews of their nuclear plants following the Fukushima radiation leak, Germany is the only country in the world to opt for a temporary moratorium. In mid-March, German chancellor Angela Merkel shut down the country's seven oldest nuclear stations for at least three months against a backdrop of continued political pressure. Pending the safety review, some of the country's 17 nuclear plants may be decommissioned earlier than previously planned. Merkel has also called for her country to speed up its move towards renewable energy to help fill any gap in electricity supply. Merkel faces a tough battle ahead because members of the Green party accuse her of not going far enough and conservatives in her own party accuse her of having gone too far.
Nuclear Trade Interests of USA, France, Russia & Japan
USA, France, Russia and Japan have been locked in fierce competition to sell new nuclear reactors to India. India is one of the world's biggest markets for nuclear technology, with plans to reach an atomic power capacity of 63,000 megawatts by 2032, from the current level of 4,560 megawatts. Fuel-hungry India has pushed ahead with its nuclear energy plans since 2008 when the then-US president George W Bush signed into law a nuclear deal that ended a three-decade ban on US nuclear trade with India.
The Open Letter
Dr P Balaram, director of the prestigious Indian Institute of Science in Bangalore and part of prime minister Manmohan Singh's scientific advisory council, described the events in Japan as "a wake-up call" for India. In an open letter, signed by more than 50 prominent figures, Balaram states:
1. "We strongly believe that India must radically review its nuclear power policy."
2. "Pending the review, there should be a moratorium on all further nuclear activity, and revocation of recent clearances for nuclear projects."
3. The Department of Atomic Energy (DAE) has "cavalierly minimised (the possibility of an accident)... and declared that Indian reactors cannot undergo serious accidents."
4. The Japanese crisis shows "that even in an industrially advanced country, nuclear reactors were vulnerable to catastrophes, in spite of precautions and safety measures."
5. The letter urges the Indian government to conduct an independent and transparent safety audit of its nuclear facilities.
"In the light of what has happened in Japan.... we strongly believe that India must radically review its nuclear power policy for appropriateness, safety, costs, and public acceptance, and undertake an independent, transparent safety audit of all its nuclear facilities, which involves non-DAE experts and civil society organisations. Pending the review, there should be a moratorium on all further nuclear activity, and revocation of recent clearances for nuclear projects," said Dr Balaram. He said he agreed to be a co-signatory to a key petition seeking a nuclear moratorium because many of India's proposed nuclear plants were likely to come up in populated and ecologically sensitive areas.
Opposition to One of The World's Largest Nuclear Plants
The Japanese crisis has fuelled opposition in India to the construction of what would be one of the world's largest nuclear power plants in a seismically-sensitive region of Maharashtra state, with six reactors providing 9,600 megawatts of combined power. French company Areva has signed a 9.3-billion-dollar framework deal to supply the first two of Jaitapur's third-generation pressurised water reactors, with the nuclear plant scheduled to begin producing power in 2018.
Nuclear moratorium opens Door to Renewables?
Germany's decision to shut down some of its nuclear power stations following problems with Japanese plants after the recent earthquake could yet spur long-term growth in renewable energy. But, for now, it will mainly be coal and gas that will fill the gap, increasing carbon emissions worldwide.
Conclusion
Are India and Germany beginning to show the way for other democracies around the world? The nuclear moratorium issue appears to be fast becoming the clarion call of our times.
[STOPS]
We are hosting an Expert roundtable on this issue at ATCA 24/7 on Yammer.
[ENDS]
Expert Roundtables
Expert roundtables are the newly launched ATCA 24/7 Q&A private exclusive club service. They seek to become the killer application in strategic intelligence by delivering an unprecedented competitive advantage to our distinguished members. They can only be accessed online at https://www.yammer.com/atca
Q1: How to become a privileged member of ATCA 24/7 to participate in the expert roundtables?
A1: i. If you are a distinguished member of ATCA 5000, ATCA Open, The Philanthropia or HQR affiliated groups you may be allowed to become a privileged member of this new and exclusive private club.
ii. If you are pre-invited, visit the private intelligence network -- PIN -- by going to https://www.yammer.com/atca [Note: In https:// 's' is for security and encryption]
iii. If you don't have membership of the PIN yet, email the mi2g Intelligence Unit at intelligence.unit at mi2g dot com for an exclusive invitation.
Q2: How to participate in the expert roundtables and get domain-specific strategic intelligence questions answered?
A2: Access the ATCA 24/7 Private Intelligence Network -- PIN -- online and ask or answer a strategic intelligence question, no matter how complex. Receive expert answers within 24 hours or get pointers from:
i. ATCA 5000 experts who are online;
ii. ATCA Research and Analysis Wing; and
iii. mi2g Intelligence Unit.
Q3: Why is the ATCA 24/7 Q&A Exclusive Club special?
A3: ATCA 24/7 has now created an exclusive private intelligence watering hole and expert roundtable at the highest level where interesting and sophisticated questions are being asked from around the world, and intelligent answers are being provided, almost always by experts who have deep domain-specific knowledge. Come and check out the exclusive club, take it for a strategic test drive, which sign-of-intelligent life are you waiting for?
To learn more about "The Expert Roundtable: ATCA 24/7 Q&A Club" email: intelligence.unit at mi2g.com and if you are already a member visit https://www.yammer.com/atca
We welcome your thoughts, observations and views. To reflect further on this subject and others, please respond within Twitter, Facebook and LinkedIn's ATCA Open and related discussion platform of HQR. Should you wish to connect directly with real time Twitter feeds, please click as appropriate:
. @G140
. Open HQR
. DK Matai
Best wishes