Dawn of The Quantum Age? Preview
London, UK - 10th July 2011, 09:35 GMT
Dear ATCA Open & Philanthropia Friends
[Please note that the views presented by individual contributors are not necessarily representative of the views of ATCA, which is neutral. ATCA conducts collective Socratic dialogue on global opportunities and threats.]
We are at the beginning of a new era in the application of Quantum Physics. From computing to telecommunications and from healthcare to energy, the most significant innovations and inventions of our time are manifest at the Quantum Level. Does this herald the onset of the Quantum Age? Paradigm-changing Quantum Technologies provide significant solutions to current global challenges in many critical areas of human endeavour and may also present outstanding opportunities for proactive, brave and technologically savvy inventors, innovators and investors.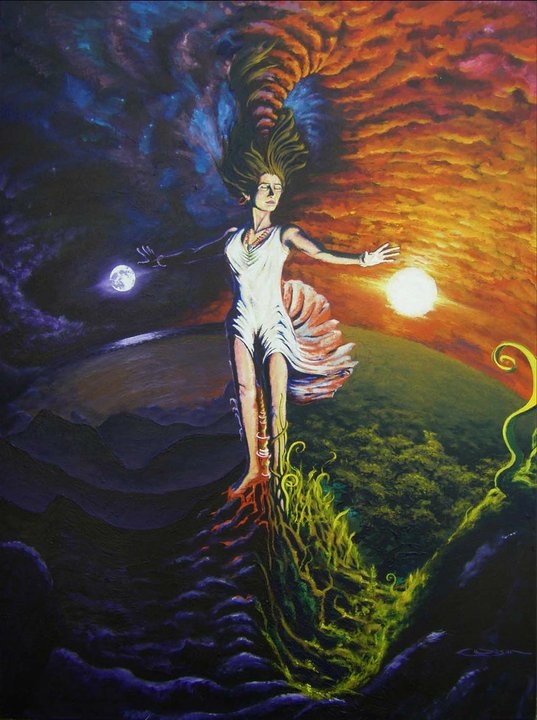 Dawn of the Quantum Age?
Quantum Entanglement & Quantum Coherence
Quantum Entanglement occurs when two entities or systems appear to us to be separate but through Quantum Coherence act as one system, with states being able to be transferred wholesale from one entity to the other but without a known signal being transferred. Quantum Entanglement is at the heart of understanding how significant events across the universe operate at the macro- and micro- level in synchronicity despite considerable distance between them. Quantum Entanglement suggests that information is exchanged faster between Quantum Entangled particles than the speed of light.
Action at a Distance
In Quantum Mechanics, non-locality refers to "action at a distance" arising from measurement correlations on Quantum Entangled states. The dividing line between the micro world of Quantum Processes and the macro world of classical physics is fading. Evidence is quickly mounting of the use in nature of Quantum properties and processes including Quantum Entanglement. Recent science has shown that Quantum Coherence and Entanglement provide the only viable explanation for a host of mysteries in nature: how photosynthesis in plants works, how birds migrate, how millions of cells co-ordinate hundreds of thousands of activities simultaneously without significant errors, and more.
Instantaneous Communication
It did take a long time to prove that Quantum Entanglement truly existed. It wasn't until the 1980s that it was clearly demonstrated. In 1982, at the University of Paris, a research team led by physicist Alain Aspect performed what may turn out to be one of the most important experiments of the 20th century. Aspect and his team discovered that under certain circumstances subatomic particles such as electrons are able to instantaneously communicate with each other regardless of the distance separating them. The challenge posed to scientists with this discovery is that it violates Einstein's long-held tenet that no communication can travel faster than the speed of light. Is the universe violating Einstein's special theory of relativity all the time?
Holographic Universe
Since travelling faster than the speed of light is tantamount to breaking the time barrier, this daunting prospect has caused some physicists to try to come up with elaborate ways to explain away Alain Aspect's findings. It has also inspired others to offer even more radical explanations including that of the holographic universe! The implications of a holographic universe are truly mind boggling… Aspect's findings imply that objective reality does not exist, that despite its apparent solidity the universe is at heart a phantasm, a gigantic and splendidly detailed hologram. To understand why a number of physicists including David Bohm made this startling assertion, one must first understand a little about holograms.
Hologram
A hologram is a three-dimensional photograph made with the aid of a laser. To make a hologram, the object to be photographed is first bathed in the light of a laser beam. Then a second laser beam is bounced off the reflected light of the first and the resulting interference pattern -- the area where the two laser beams superimpose -- is captured on film. When the film is developed, it looks like a meaningless swirl of light and dark lines. But as soon as the developed film is illuminated by another laser beam, a three-dimensional image of the original object appears!
No Sub-Parts
The three-dimensionality of such images is not the only remarkable characteristic of holograms. If a hologram of a rose is cut in half and then illuminated by a laser, each half is still found to contain the entire image of the rose. Indeed, even if the halves are divided again, each snippet of film is always found to contain a smaller but intact version of the original image. Unlike normal photographs, every part of a hologram contains all the information possessed by the whole! This is exactly like fractals in nature and mathematics.
Whole in Every Part
The "whole in every part" nature of a hologram provides us with an entirely new way of understanding organisation and order. For most of its history, Western science has laboured under the bias that the best way to understand a physical phenomenon, whether a frog or an atom or a national economy, is to dissect it and to study its respective components. A hologram teaches us that some things in the universe may be understood only as integrated holistic systems. If we try to take apart something constructed holographically, we will not get the pieces of which it is made. We will only get smaller wholes or less evolved, less detailed, incomplete miniatures of the whole picture.
Extensions of the Same Source
This insight suggested to some scientists, including David Bohm, another way of understanding Aspect's discovery. Bohm believed the reason subatomic particles are able to remain in contact with one another regardless of the distance separating them is not because they are sending some sort of mysterious signal back and forth, but because their separateness is, in fact, an illusion. Bohm suggested that at some deeper level of reality such particles are not individual entities, but are actually system components of the same fundamental something!
Need to Back R&D Led Quantum Innovation & Invention
The dividing line between the micro world of quantum and the macro world of classical physics is fading. For example, in the field of healthcare, complementary and alternative medicine has claimed the niche for "energetic" and "informational" medicine. However, conventional medicine is fast catching on. For example, biotechnologies designed to assess the state of the human biofield have been developed. They are changing the face of healthcare and are able to stimulate the body's self-healing capabilities via technology. The pathway to innovation goes both ways: technologies are invented which then need the support of theoretical underpinnings, and emerging-science theories may also drive technological development. The prescient inventor, innovator and investor needs to be proactive in raising awareness on all fronts.
Investing in Future Technologies
The same principles of Quantum Entanglement, Resonance and Coherence apply to other fields, such as telecommunications, computers, and energy. Imagine communication devices that need no cables or even a wireless infrastructure. Imagine information being able to be transported over distances in a holistic state-dependent way instead of bit by bit or in packets.
Unique Properties of Water
Recent research into the structure of water by Nobel Prize-winner Luc Montagnier, and as previously suggested by Jacques Benveniste, has shown water's ability to retain information imprinted into it in a stable manner that is retrievable at a later date!
Applications including Highly Secure Communications
There are some real and amazing applications of Quantum Entanglement in the security world. It can be used to produce unbreakable encryption. If we send each half of a set of entangled pairs to either end of a communications link, then the randomly generated but linked properties can be used as a key to encrypt information. If anyone intercepts the information it will break the entanglement, and the communication can be stopped before the eavesdropper picks up any data.
Noosphere
If we look closely, the collective consciousness is rising also all around us via the Noosphere. As that collective consciousness accelerates it creates the perception of the flight of time. All space-time is non-permanent and in a state of flux. We are just becoming more aware of this phenomenon and the illusion which envelopes and underpins it. The Noosphere can be seen as the "sphere of human thought" being derived from the Greek vou? ("nous") meaning "mind" in the style of "atmosphere" and "biosphere". In the original works of Teilhard de Chardin as well as Vladimir Vernadsky, the Noosphere is the third in a succession of phases of development of the Earth, after the Geosphere -- inanimate matter -- and the Biosphere -- biological life. Just as the emergence of life fundamentally transformed the Geosphere, the emergence of collective human cognition fundamentally transforms the Biosphere.
Rising Collective Consciousness
The Noosphere is becoming more evident via internet, web and mobile communities -- manifest as Cloud Computing -- which are ubiquitous and removing the separation imposed by distance, ie, we are all accessible and can access each other anywhere and everywhere, all at once, thereby displaying Quantum Entanglement type phenomena! As a result, increasingly one is showered with synchronicity reinforcing patterns of the unifying energy field -- the Singularity -- in everyone and everything: all manifest in real time as One. At the same time, the Great Unwind (2007-?) and the Great Reset (2008-?) in the global economy have synchronicity, severity, speed and scale that are historically unprecedented, resulting in a shift in collective consciousness. The natural turbulences and cascading effects from tornadoes and tsunamis, earthquakes and volcanoes, as well as electromagnetic flux changes are also on an unprecedented scale.
Rapid Evolution
In the 21st century, we are much more connected with each other digitally and the spiritual or trans-physical connections, events, happenings -- that have always been there -- are beginning to demonstrate their own unifying presence via showers of synchronicity, that portend the Singularity via self-explaining signs or signatures. Those signatures come in the shape of events, happenings or connections that we may call "Haps!" Synchronicity is obvious with the rising level of individual and collective consciousness in regard to our holistic inter-connectivity in space and time enabled physically, digitally and through the primordial and ever present transcendental heightened connectivity. More connectivity creates the opportunity for more Haps taking place in unison leading to rapid evolution.
Asymmetric Opportunities
What are the upside possibilities and asymmetric opportunities for humanity, which might emerge out of the global crises? Historically, it is in times of massive conflict or crises of survival that humans find themselves able to rise above personal preoccupations and egocentric thinking to consider the ways in which humankind as a whole might rise above such events in common purpose and common effort. Some observations that came out of this collective thinking are as follows:
1. The "Age of Narcissism" may be coming to an end as trans-national deep crises cut the model of "me-first and me-last" ranging from those events we are yet to see in the global financial markets, socio-economic systems, lifestyle experiments to health, well being and collective awakening;
2. The Metamorphosis of Narcissism, ie, Selfishness, towards the Golden Age of greater good and self-lessness is bound to prevail in the midst of a series of global and personal crises precipitated by ignoring natural limits, short term gain capitalism and neo-economic imperialism;
3. Evolution from an ego-centric self-gratification vision of the world towards collective-thinking and community betterment/survival shaped by global crises may be increasingly becoming a necessity for humanity;
4. Elimination of the arrogant "I" and "short term gain" model of globalisation and capitalism towards the humbler "we" and "long term sustainability" foundations for a "Wisdom based Global Economy" is becoming more manifest; and
5. The Noosphere's -- The Sphere of human thought's -- role is vast in helping to eliminate "manipulations, errors and omissions" by hierarchical authorities and to raise "collective consciousness" to reach the "Omega point" via the global internet, web and mobile technologies as well as inner spiritual progress.
Omega Point
The French philosopher Teilhard de Chardin emphasised the way that geography and distance are eliminated as human minds coalesce to solve a problem or fight a common enemy eventually to reach the "Omega point." Teilhard de Chardin said, "The age of nations is past. The task before us now, if we would not perish, is to build the earth."
Infinite Field
The Noosphere's emergence is transforming everything it comes into contact with. In this sense there is the idea of some supra universal energy field -- Singularity -- from which all this connectivity and unity is emerging very rapidly. The Noosphere can be thought of as a layer of the collective and connective mind(s) coalescing into one. Connective intelligence, collective intelligence, and corrective intelligence all unite through transparent interaction in this emergent infinite field.
Bio, Info and Nano (BIN)
To us as humanity, the presence of the Singularity becomes obvious in the 21st century based on the collective and individual observation that a lot of technological trends are accelerating faster and faster. Look around you! Although there are a number of such trends that in and of themselves have the potential for deeply transforming our collective lives, the Bio, Info and Nano (BIN) instances are worth considering:
1. Bio-technology and Genetic Engineering: What happens as we are able to understand and to design genetically engineered organisms freely? And we make bodies or new life forms with whatever attributes we want, what next? What are the consequences -- benign and diabolical?
2. Informatics and Artificial Intelligence: The pervasive anywhere anytime digital computing and connectivity via mobile telephones, the internet and satellite navigation has now created a holistic cybersphere where we live our visible and tangible lives both at the physical and non-physical levels simultaneously. What happens as computers become smarter decision makers than we are in certain critical areas? What happens as those computers are a million times smarter decision makers than any of us in certain critical areas? What can they do that we are not even able to comprehend? One example to contemplate is High Frequency Trading (HFT) proliferating across most asset classes and geographic domains.
3. Nanotechnology: This ultimately allows us complete control over physical matter, so that we can step-by-step build any physical object we may imagine or require via molecular assemblers, at near-zero marginal cost and locally. What are the implications in regard to the break down in world trade and de-globalisation?
Infinity Manifest
The Roman philosopher Cicero observed more than two thousand years ago, "Everything is alive; everything is interconnected!" or "Omnia vivunt, omnia inter se conexa!" We are beginning to see the entire universe as a holographically interlinked network of energy and information, organically whole, undergoing rapid evolution. The "point" of the Singularity is reached essentially when all of the scientific and technological innovation trends appear to go out of control at the human level, ie, they have moved beyond our event horizon, and we can no longer follow along any previous linear logic or understanding to comprehend their combined effects. That technological change is instantaneous and omnipresent and defined by the Quantum Age. As we establish and activate the new "Quantum Innovation Labs" we aim to be at the forefront of nurturing Quantum Technology inventions and innovations.
[STOPS]
We are hosting an Expert roundtable on this issue at ATCA 24/7 on Yammer.
[ENDS]
Expert Roundtables
Expert roundtables are the newly launched ATCA 24/7 Q&A private exclusive club service. They seek to become the killer application in strategic intelligence by delivering an unprecedented competitive advantage to our distinguished members. They can only be accessed online at https://www.yammer.com/atca
Q1: How to become a privileged member of ATCA 24/7 to participate in the expert roundtables?
A1: i. If you are a distinguished member of ATCA 5000, ATCA Open, The Philanthropia or HQR affiliated groups you may be allowed to become a privileged member of this new and exclusive private club.
ii. If you are pre-invited, visit the private intelligence network -- PIN -- by going to https://www.yammer.com/atca [Note: In https:// 's' is for security and encryption]
iii. If you don't have membership of the PIN yet, email the mi2g Intelligence Unit at intelligence.unit at mi2g dot com for an exclusive invitation.
Q2: How to participate in the expert roundtables and get domain-specific strategic intelligence questions answered?
A2: Access the ATCA 24/7 Private Intelligence Network -- PIN -- online and ask or answer a strategic intelligence question, no matter how complex. Receive expert answers within 24 hours or get pointers from:
i. ATCA 5000 experts who are online;
ii. ATCA Research and Analysis Wing; and
iii. mi2g Intelligence Unit.
Q3: Why is the ATCA 24/7 Q&A Exclusive Club special?
A3: ATCA 24/7 has now created an exclusive private intelligence watering hole and expert roundtable at the highest level where interesting and sophisticated questions are being asked from around the world, and intelligent answers are being provided, almost always by experts who have deep domain-specific knowledge. Come and check out the exclusive club, take it for a strategic test drive, which sign-of-intelligent life are you waiting for?
To learn more about "The Expert Roundtable: ATCA 24/7 Q&A Club" email: intelligence.unit at mi2g.com and if you are already a member visit https://www.yammer.com/atca
We welcome your thoughts, observations and views. To reflect further on this subject and others, please respond within Twitter, Facebook and LinkedIn's ATCA Open and related discussion platform of HQR. Should you wish to connect directly with real time Twitter feeds, please click as appropriate:
. @G140
. Open HQR
. DK Matai
Best wishes