Nano-Gold Revolution: The Alchemy of The 21st Century?
London, UK - 11th February 2010, 14:50 GMT
Dear ATCA Open & Philanthropia Friends
[Please note that the views presented by individual contributors are not necessarily representative of the views of ATCA, which is neutral. ATCA conducts collective Socratic dialogue on global opportunities and threats.]
Gold nanoparticles are also known as 'colloidal gold' or sometimes 'nano-gold.' New and innovative nano-gold applications appear to have the potential to overcome some of the serious challenges facing humankind over the coming few decades according to new research published by the World Gold Council. Over the last ten years, some USD 50 billion of government funding has been invested into nanotechnologies, and this investment is now starting to bear fruit with a steady stream of commercially viable nanotechnologies that impact on human health, the environment and technology.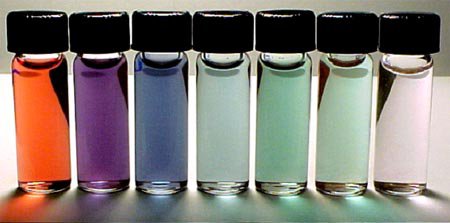 Nano-Gold colloids exhibit different colours at different sizes and concentrations
Unique Properties
Nanotechnology is fairly new to our civilisation, but it turns out that colloidal gold has been around since ancient times and it was originally used to stain glass. The Romans found that they could get several colours out of the same gold particles simply by adding water and diluting the potion. It was rediscovered by Michael Faraday in the 1850s and almost immediately became one of science's favourite substances. Gold nanoparticles exhibit a variety of unique properties which, when harnessed and configured effectively, lead to new materials and systems whose uses are both far-ranging in their potential and cost effective.
Environment and Resources
Environmental concerns are increasingly prominent in the global collective consciousness. Major issues that dominate headlines every day include: falling energy reserves; clean water scarcity; countering climate chaos; as well as pollution prevention and control. Gold nano-particle based technologies are showing great promise in providing solutions to a number of environmentally important issues from greener production methods of chemical feed-stocks, to countering pollution and water purification.
Catalysts and Clean Energy
Gold-based catalysts are now being developed that can effectively prevent the release of highly toxic forms of mercury into the atmosphere, the reduction of chemicals from green feedstock, and also for water purification and contaminant detection. In addition, gold is being used in meeting the challenge of constructing cost effective and efficient fuel cells, a key 'clean-energy' technology of the future.
Health
The diagnosis and treatment of diseases such as cancer represents a significant challenge to humanity. Tumour targeting technologies which exploit gold's inherent bio-compatibility are being developed to deliver drugs directly into cancerous tumours. Gold nanoparticles are introduced into the veins and guided by a spectroscope to locate problem tumours; they are then injected into the tumour along with an antibody to stop the tumour's ability to grow and, in some cases, shrink its size. Additionally, simple, cost effective and sensitive diagnostic tests are being developed for the early detection of prostate and other cancers.
Advanced technology
Gold is already a well established material in the electronics industry and the use of gold is set to increase as electronics goes "nano" and nanotechnology becomes the key driver of future electronics solutions. Gold is being developed for conductive nanoparticle inks for plastic electronics because of its material compatibility, inherent durability and proven track record of reliability. Gold nanotechnologies have also been shown to offer functional benefits for visual display technologies such as touch sensitive screens and potentially for use in advanced data storage technologies including advanced flash memory devices.
Optics and Light
Our thirst for faster, smaller consumer technology products is straining current semiconductor chip design principles. How can we increase the overall computing power of chips without increasing energy consumption? Using light, not electricity, as the basis for future generations of computer chips has huge potential. The ability of gold to "shine" in a different way at the nanoscale may eventually lead to its use in building new optical chips for a range of cutting edge technologies.
Elixir of Life
The miraculous qualities of nano-gold were understood in a different way by the ancients, who devoted massive amounts of time and energy to alchemy and labelled a primitive form of colloidal gold the "Elixir of Life." Many alchemists studied and searched their whole lives to find a means of creating a potion made from liquefied gold, believing that it would cure all sorts of bodily ailments and strengthen mental and physical capabilities. There are many extant writings discussing the Elixir of Life, but it is not clear whether the formula was ever discovered. A 16th-century alchemist named Paracelsus ultimately claimed that he had created the elusive potion. Scientists have known that it could be done since the time of the ancient Romans and the quest continues within the realms of nano-medicine. Given the rising uses of gold in nano-technology, is gold at the heart of 21st century alchemy?
[ENDS]

We welcome your thoughts, observations and views. To reflect further on this subject and others, please respond within Twitter, Facebook and LinkedIn's ATCA Open and related discussion platform of HQR. Should you wish to connect directly with real time Twitter feeds, please click as appropriate:
. @G140
. Open HQR
. DK Matai
Best wishes