Armistice Day -- Dulce et decorum est pro patria mori
London, UK - 11th November 2010, 10:55 GMT
Dear ATCA Open & Philanthropia Friends
[Please note that the views presented by individual contributors are not necessarily representative of the views of ATCA, which is neutral. ATCA conducts collective Socratic dialogue on global opportunities and threats.]
Today is the 92nd anniversary of the end of the first world war, Armistice Day, 11th November at 11:00am. In silence, we remember the 16+ million who died in WWI, the 50+ million who died in WWII, the many tens of millions who have died in subsequent wars, and countless sentient beings who are still dying in many unnecessary wars. Whilst there can be no words to describe the horror of war for those who have lost their loved ones and for those whose family members have been injured or maimed, there are some leading writers and poets who have, throughout history, attempted to capture the crushing gravity of that brutal and morbid black hole which humanity nonchalantly calls war.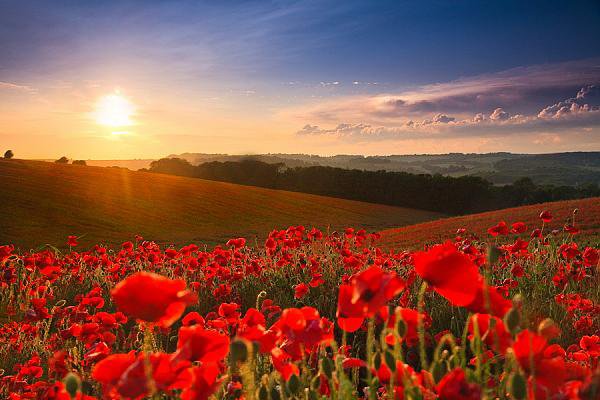 Poppy Fields
As Chief Seattle said, "Humankind has not woven the web of life. We are but one thread within it. Whatever we do to the web, we do to ourselves. All things are bound together. All things connect!" We would like to present, Wilfred Owen's "Dulce et Decorum Est", the best known poem of the First World War, which rather accurately describes the horror of war, and the pity of war. We invite you to meditate for inner peace, tranquility and global unity -- amongst all sentient beings -- on this day and everyday. Regardless of our outer differences, in our within, and via our myriad inter-linkages with each other, we are in essence all one!
DULCE ET DECORUM EST
Bent double, like old beggars under sacks,
Knock-kneed, coughing like hags, we cursed through sludge,
Till on the haunting flares we turned our backs
And towards our distant rest began to trudge.
Men marched asleep. Many had lost their boots
But limped on, blood-shod. All went lame; all blind;
Drunk with fatigue; deaf even to the hoots
Of tired, outstripped Five-Nines that dropped behind.
Gas! Gas! Quick, boys! – An ecstasy of fumbling,
Fitting the clumsy helmets just in time;
But someone still was yelling out and stumbling,
And flound'ring like a man in fire or lime ...
Dim, through the misty panes and thick green light,
As under a green sea, I saw him drowning.
In all my dreams, before my helpless sight,
He plunges at me, guttering, choking, drowning.
If in some smothering dreams you too could pace
Behind the wagon that we flung him in,
And watch the white eyes writhing in his face,
His hanging face, like a devil's sick of sin;
If you could hear, at every jolt, the blood
Come gargling from the froth-corrupted lungs,
Obscene as cancer, bitter as the cud
Of vile, incurable sores on innocent tongues,
My friend, you would not tell with such high zest
To children ardent for some desperate glory,
The old Lie; Dulce et Decorum est
Pro patria mori.
8th October 1917 -- March, 1918
Dulce et decorum est pro patria mori is a line from the Roman lyrical poet Horace's Odes (iii 2.13). The line can be rendered in English as: "It is sweet and honourable to die for one's country." In classical Latin it was pronounced, "dulcet decorumst pro patria mori," due to poetic elision and prodelision.
Wilfred Edward Salter Owen, MC (March 18, 1893 – November 4, 1918) was an English poet and soldier, regarded by some as the leading poet of the First World War. His shocking, realistic war poetry on the horrors of trench and gas warfare was heavily influenced by his friend Siegfried Sassoon and sat in stark contrast to both the public perception of war at the time, and to the patriotic verse written earlier by war poets such as Rupert Brooke. Some of his best-known works -- most of which remained unpublished until after his death -- include Dulce Et Decorum Est, Anthem for Doomed Youth, Futility, and Strange Meeting. His preface intended for a book of poems to be published in 1919 contains numerous well-known phrases, especially 'War, and the pity of War', and 'the Poetry is in the pity'. He is just as well-known for having been killed in action at the Sambre-Oise Canal just a week before the war ended, causing news of his death to reach his home as the town's church bells declared peace.?
[ENDS]

We welcome your thoughts, observations and views. To reflect further on this subject and others, please respond within Twitter, Facebook and LinkedIn's ATCA Open and related discussion platform of HQR. Should you wish to connect directly with real time Twitter feeds, please click as appropriate:
. @G140
. Open HQR
. DK Matai
Best wishes