Have The Dominoes Begun to Fall? Middle East Chaos Escalates: Digest of Key Tweet
London, UK - 15th February 2011, 12:05 GMT
Dear ATCA Open & Philanthropia Friends
[Please note that the views presented by individual contributors are not necessarily representative of the views of ATCA, which is neutral. ATCA conducts collective Socratic dialogue on global opportunities and threats.]
What next as 4 Middle East countries -- Iran, Algeria, Yemen and Bahrain -- demonstrate massive protests and clashes post Egypt and Tunisia?
1. Iran: Mubarak! Ben-Ali! Now Its Khamenei's turn! Police attack pro-Egypt demonstrators in Tehran with tear gas, batons... http://ow.ly/3WmH8
2. Algeria unrest: Akbou protesters clash with police: hundreds of youths have clashed with security forces during protests. http://ow.ly/3WnGf
3. Yemen: thousands rally: several injured as protesters clash with police on 4th straight day of demos in capital and south http://ow.ly/3WnX0
4. Bahrain: 'day of rage' simmers as confrontations grow frequent and violent. Riot police use tear gas and rubber bullets. http://ow.ly/3Wnul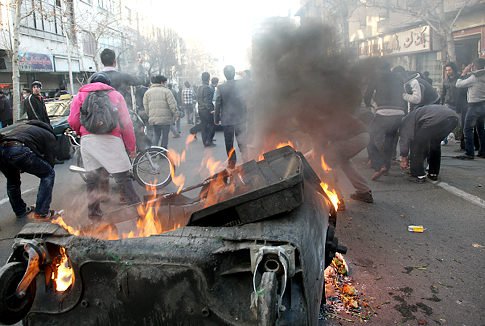 Mobile phone image of riots in Tehran, Iran
Question
Given that the Iranian government brutally crushed the first digitally driven revolution attempt in the world in 2009, what hope is there in 2011?
Deaths
Two deaths reported in street clashes in Iran and Bahrain: Egypt's uprising sends powerful shockwaves across Middle East. http://ow.ly/3WqBL
Wheat
Wheat rises to highest since 2008 on demand, China drought: Political tension in ME spurs govts to boost grain imports... http://ow.ly/3Wpkh
Crude Oil
Brent crude oil hits 28-month high at $104 on concerns about protests in ME and strong crude oil imports by China... http://ow.ly/3WqNy
Exodus to Europe
5,000 Tunisians have landed on Italy's tiny Lampedusa island: Tunisia's deploying troops to stop migrant exodus to Europe http://ow.ly/3Wr2N
Immigration Red Alert
Tunisian 'exodus' exposes Europe's migrant quandary to find a coordinated approach to the hot-button issue of immigration http://ow.ly/3Wrdt
[ENDS]
To learn more about "The Expert Roundtable: ATCA 24/7 Q&A Club" email: intelligence.unit at mi2g.com and if you are already a member visit https://www.yammer.com/atca
We welcome your thoughts, observations and views. To reflect further on this subject and others, please respond within Twitter, Facebook and LinkedIn's ATCA Open and related discussion platform of HQR. Should you wish to connect directly with real time Twitter feeds, please click as appropriate:
. @G140
. Open HQR
. DK Matai
Best wishes