Why Mud Cakes and Food Riots in Haiti?

London, UK - 18th April 2008, 20:11 GMT
Dear ATCA Open & Philanthropia Friends
[Please note that the views presented by individual contributors are not necessarily representative of the views of ATCA, which is neutral. ATCA conducts collective Socratic dialogue on global opportunities and threats.]
It is giving us sleepless nights and increasingly becoming heart rending to note that people are having to eat mud cakes in Haiti -- cakes made of margarine, mud and salt -- to keep hunger at bay as the price of food rockets around the world, with a particularly adverse impact on the developing world.
You will have no doubt already read the ATCA briefing: "Food Security: Why has the Global Food Crisis reached Emergency Proportions?"
For months, people in Haiti have been going hungry. The recent rises, particularly in the price of rice, have tipped people over the edge. They are having to eat mud cakes, known as Teh, to help quiet their excruciating hunger pangs. Starvation is the main cause for doing so, although Pica, which occurs sometimes with iron deficiency anaemia, may also be present in the Haitian population.

Food riots in Haiti caused the deaths of five people about a fortnight ago, including a UN peacekeeper, and forced the country's prime minister out of office. No country has escaped the effects of escalating wheat and rice prices. The poor nations like Haiti have been hardest hit. The country is in terrible turmoil because Haiti is forced to buy imported food staples which are getting more expensive by the month.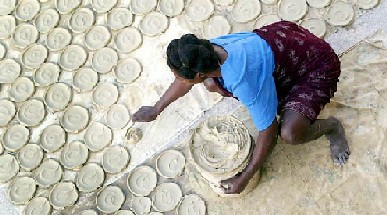 Mud Cake Preparation in Haiti
Many of the Haiti people have turned to eating mud cakes. They first strain the mud to remove stones in it, put some mixture of vegetables and then they let it dry under the sun. Though this mud cake is rich in calcium, eating it on a regular basis is not good for their health according to the health specialists. At present, this is the food being eaten by the poorest people in the hemisphere.

Decline of The US Dollar

The decline of the US dollar has affected many countries and Haiti is one of the most affected ones. The increased price of fuel and food has lead to most -- if not all -- of the products being sold in Haiti to have inflated prices too. Haiti is already poor and it is getting poorer and poorer as it can afford to buy less and less of food and fuel on the world markets.

Haiti's history is terribly sad. Christopher Columbus discovered it in 1492, and soon after, Europeans completely killed the indigenous population, in one of the worst genocides ever. Then it was repopulated, primarily by African slaves. Most Haitians are descendants of those slaves, who overthrew their French masters in the Haitian Revolution in 1804. Unfortunately this did not end neo-colonial intervention...

How do you feel about this adverse developments in Haiti? Imagine having to eat mud cakes to cope with hunger. It makes the soul tremble...

[ENDS]

To reflect further on this, please click here and read views as well as respond directly within the online forum.

We welcome your thoughts, observations and views. Thank you.
Best wishes