Human-Animal Synthetic Organisms: Asymmetric Threats
London, UK - 24th March 2008, 22:07 GMT
Dear ATCA Colleagues
[Please note that the views presented by individual contributors are not necessarily representative of the views of ATCA, which is neutral. ATCA conducts collective Socratic dialogue on global opportunities and threats.]
After 10 years of stem cell research, scientists are now facing difficulty with cell therapy from the present human embryonic stem cell experimentation. The next phase involves human-animal combinations via Chimeras, Hybrids and Cybrids.

1. A Chimera is produced when a human embryo is fused with an animal embryo;
2. An Hybrid is produced when a human female egg is fertilised with animal sperm or vice-versa; and
3. A "Cybrid" is produced when an animal cell's genetic material is removed and replaced with human genetic material.

Some key questions arise:

1. Should human genetic material be fused with animal cells to create clones of hybrids and cybrids for research?
2. Are human body replacement parts which are part human and part animal appropriate?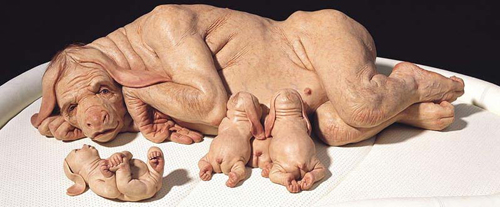 Patricia Piccinini's "The Young Family"
reflects on the perils of creating human-animal synthetic organisms
[ENDS]
To reflect further on this, please click here and read views as well as respond directly within the online forum.
We welcome your thoughts, observations and views. Thank you.
Best wishes