China Falls Hard: What's Going On?
London, UK - 24th June 2013, 14:30 GMT
Dear ATCA Open & Philanthropia Friends
[Please note that the views presented by individual contributors are not necessarily representative of the views of ATCA, which is neutral. ATCA conducts collective Socratic dialogue on global opportunities and threats.]
Chinese stocks have plunged considerably to lead Asian equities lower with concerns that Beijing may be reluctant or perhaps politically unable to ease a liquidity crunch in the Shanghai interbank money markets, slamming banks particularly hard. The Shanghai Composite suffered its worst one-day percentage loss in nearly four years, plunging 5.3% -- its first close below the psychologically-important 2,000-point level since December last year. The performance is its worst since a 6.7% drop in August 2009 during the global financial crisis. The Shenzhen Composite Index also dived 6.1%. In parallel, Japan and Korea have also fallen more than a percent and now Europe and America are turning negative yet again.]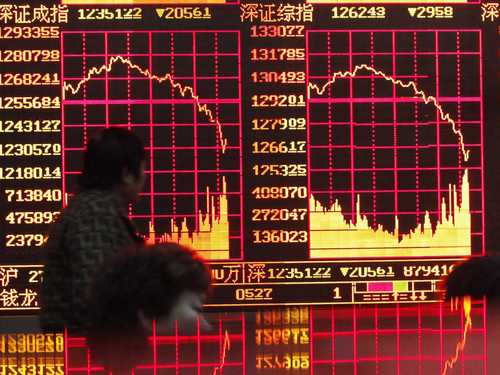 Shanghai market plunges 5.3% in one day
A big contributor to the China markets collapse was a clear message from their central bank -- the People's Bank of China (PBoC) -- telling banks that their liquidity issues were their own problem, and that they needed to sort them out. Suddenly, the perception is that central banks around the world are reluctant to keep printing and throwing money at the banks to keep them solvent ad infinitum and the markets are throwing a fit. It is never easy to come off feel-good drugs and tantrums are part of the course.
Global growth is slowing down considerably and beggar-thy-neighbour competitive devaluations are not going to work to lift all major economies out of trouble simultaneously. Something's got to give. Watch: Bond yields are rising and the tide is turning against further QE as ATCA 5000's Socratic dialogue began to point out more than one month ago. Central banks are simply unable to do further QE forever and ever if bond yields rise much further than they already have. High bond yields ultimately cause debt servicing costs to rise to an exorbitant level, which fundamentally undermines the key premise of QE in the first place as a mechanism to lower borrowing costs! Note that US 10 year bond yields are at 2.59% and rising. What does that mean? Interest rates are going to go up sooner rather than later and not stay down.
[STOPS]
What are your thoughts, observations and views? We are hosting an Expert roundtable on this issue at ATCA 24/7 on Yammer.
[ENDS]
Expert Roundtables
Expert roundtables are the newly launched ATCA 24/7 Q&A private exclusive club service. They seek to become the killer application in strategic intelligence by delivering an unprecedented competitive advantage to our distinguished members. They can only be accessed online at https://www.yammer.com/atca
Q1: How to become a privileged member of ATCA 24/7 to participate in the expert roundtables?
A1: i. If you are a distinguished member of ATCA 5000, ATCA Open, The Philanthropia or HQR affiliated groups you may be allowed to become a privileged member of this new and exclusive private club.
ii. If you are pre-invited, visit the private intelligence network -- PIN -- by going to https://www.yammer.com/atca [Note: In https:// 's' is for security and encryption]
iii. If you don't have membership of the PIN yet, email the mi2g Intelligence Unit at intelligence.unit at mi2g dot com for an exclusive invitation.
Q2: How to participate in the expert roundtables and get domain-specific strategic intelligence questions answered?
A2: Access the ATCA 24/7 Private Intelligence Network -- PIN -- online and ask or answer a strategic intelligence question, no matter how complex. Receive expert answers within 24 hours or get pointers from:
i. ATCA 5000 experts who are online;
ii. ATCA Research and Analysis Wing; and
iii. mi2g Intelligence Unit.
Q3: Why is the ATCA 24/7 Q&A Exclusive Club special?
A3: ATCA 24/7 has now created an exclusive private intelligence watering hole and expert roundtable at the highest level where interesting and sophisticated questions are being asked from around the world, and intelligent answers are being provided, almost always by experts who have deep domain-specific knowledge. Come and check out the exclusive club, take it for a strategic test drive, which sign-of-intelligent life are you waiting for?
To learn more about "The Expert Roundtable: ATCA 24/7 Q&A Club" email: intelligence.unit at mi2g.com and if you are already a member visit https://www.yammer.com/atca
We welcome your thoughts, observations and views. To reflect further on this subject and others, please respond within Twitter, Facebook and LinkedIn's ATCA Open and related discussion platform of HQR. Should you wish to connect directly with real time Twitter feeds, please click as appropriate:
. @G140
. Open HQR
. DK Matai
Best wishes