How Historic is Toyoda's Testimony to the US Congress?
London, UK - 25th February 2010, 09:35 GMT
Dear ATCA Open & Philanthropia Friends
[Please note that the views presented by individual contributors are not necessarily representative of the views of ATCA, which is neutral. ATCA conducts collective Socratic dialogue on global opportunities and threats.]
The stakes are clearly high. The Japanese feel that the image of all their car makers and manufacturers is distilled into the Congress theatre in Washington, DC, and this has far reaching impact on US-Japan trade relations. Such is the perceived gravity, just before Akio Toyoda, Toyota's chief executive, was due to testify at a Congressional committee in Washington, Japan's prime minister, urged him to respond "sincerely" to US safety concerns. He said that doing so would help ensure the carmaker's problems did not become a source of friction between Japan and the US. Specifically, the Japanese PM said:
. The Toyota chief "should act sincerely and in good faith" at the hearing; and
. "If he does that, I think there is every possibility for Toyota to gradually regain the public's trust, without this issue developing into a major problem between Japan and the US."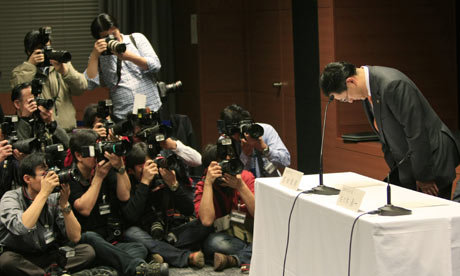 Akio Toyoda, Chief Executive of Toyota in Washington, DC
Toyota's CEO faced the US House of Representatives Oversight and Government Reform Committee's questioning on car defects blamed for 30 deaths and tied to the recall of some eight and a half million Toyota vehicles worldwide. Mr Toyoda's appearance has been one of the most-anticipated by a foreign executive on Capitol Hill. The grandson of the founder of the world's number one carmaker, said in prepared remarks to the committee:
. He was "deeply sorry" for any accidents suffered by US drivers and emphasised his personal connection to the company.
. "All the Toyota vehicles bear my name. For me when the cars are damaged, it is as though I am as well. I, more than anyone, wish for Toyota's cars to be safe and for our customers to feel safe when they use our vehicles."
. "We pursued growth over the speed at which we were able to develop our people and our organisation. I regret that this has resulted in the safety issues described in the recalls we face today, and I am deeply sorry for any accidents that Toyota drivers have experienced."
. He specifically expressed sympathy to a family that lost four members when their Lexus crashed on a highway near San Diego last year with a jammed accelerator pedal.
. He spelt out several steps that Toyota was taking to improve its quality control, including giving decision-making authority to regional offices and the creation of a quality advisory group with representatives from around the world.
Lawmakers and some drivers who survived crashes have charged the Japanese auto giant with ignoring complaints and incorrectly blaming accidents on floor mats that jam accelerators or on sticky pedals, while ignoring the possibility of software or electronics problems. The day before, Rhonda Smith had held members of the US Congress spellbound with a harrowing tale of how her luxury car became an uncontrollable missile. The Tennessee woman's voice broke as she recalled placing what she thought would be her last telephone call to her husband Eddie as her Lexus ripped forward on a highway at over 160km/h. Mrs Smith accused Toyota and the US National Highway Traffic Safety Administration (NHTSA) of ignoring her subsequent pleas to fix the problem.
US Transportation Secretary Ray LaHood said that he had found Toyota's Japan-based leaders "safety-deaf" when he took office last year but he believed the company was charting a different course. "I do think that the fact that Mr Toyoda is here, that he's testifying, that he's willing to answer questions, [means] things have changed. His visit here has been a game changer," he said.
Conclusion
Toyota's structure of centralised decision making in Japan made it harder for safety complaints from customers across the world to be a part of recall deliberations. Until now, decisions on whether to launch a recall have been made by Toyota's Japan-based Customer Quality Engineering team. Toyota says a new safety review board will be set up by the end of March. Mr Toyoda said that he would be shifting more responsibility and decision making power to regional centres across the globe rather than keeping recall and safety decisions centralised in Japan. This is clearly a crucial step towards recognising the perils associated with the over centralisation of management.
In its pursuit of growth Toyota clearly stretched its lean philosophy close to breaking point and in so doing had become "confused" about some of the priorities that first made it great. However, there is not a single big car company that has not modelled its manufacturing processes and supply-chain management on Toyota's lean-production system. Although it is Toyota whose reputation is currently in the dock after a crushing series of safety-related auto recalls across the world, competitors are only too aware that it could be their turn next.
Much is at stake for Toyota and Japan as the company tries to restore its reputation. There have been an alarming number of cases in recent years in which Japanese products have not met the high quality standards that the entire world and its own citizens expect of it. Japan can ill-afford complacency about the quality of its products and stagnant productivity especially given its aging population and demographic time-bomb. This means keeping up with competitors in Europe, Asia and America, who are ready to displace Japan wherever it falters.
[ENDS]

We welcome your thoughts, observations and views. To reflect further on this subject and others, please respond within Twitter, Facebook and LinkedIn's ATCA Open and related discussion platform of HQR. Should you wish to connect directly with real time Twitter feeds, please click as appropriate:
. @G140
. Open HQR
. DK Matai
Best wishes