Davos Digest - Key ATCA Tweets - I
London, UK - 27th January 2010, 23:05 GMT
Dear ATCA Open & Philanthropia Friends
[Please note that the views presented by individual contributors are not necessarily representative of the views of ATCA, which is neutral. ATCA conducts collective Socratic dialogue on global opportunities and threats.]
The highlights of The World Economic Forum, the annual gathering of government and corporate leaders in the Alpine ski resort in Davos, Switzerland, are presented as a series of @ATCAOpen tweets: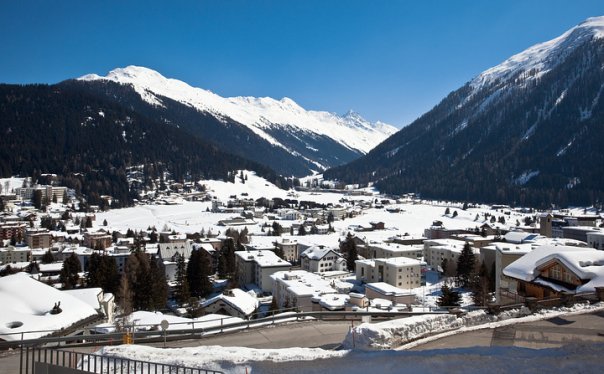 Davos, Switzerland
. Davos Focus = 3R's -- The need to 'Rethink, Redesign and Rebuild' the world!
. Values Crisis? Davos Poll Result: Two-thirds of people around the world think the global economic crisis is also a crisis of ethical values!
. CEO Confidence Rebounds With Global Economy: 81% express confidence in the next 12 mths up from 64% last year; 31% very +ve http://ow.ly/1160e
. Where are the jobs? Davos: Few jobs as global recovery slow; West faces jobless growth; emerging markets swifter uptick! http://ow.ly/10XWp
. 10 and 10 Rule: 10% unemployment in the US; 10% economic growth in China. How come? Gloomy outlook for US and China at Davos! http://ow.ly/117z7
. What to do about banks? Volcker Rule - Davos begins with bankers and regulators clashing on plans for more regulation... http://ow.ly/10VmH
. French President Sarkozy at Davos calls for a fundamental rethink of capitalism in the aftermath of the financial crisis. http://ow.ly/114c2
. President Obama gives crucial State of Union address tonight and senior officials in DC so US dominates Davos from afar! http://ow.ly/116As
. Axel Weber, ECB Governing Council member at Davos: ECB will not set euro zone rates to suit bloc's few troubled members! http://ow.ly/1171F
. 2010 key year in Davos: days of banking self-rule are over; policymakers must make tough choices on regulation + rewards. http://ow.ly/114Jx
. Senior Banker: The reason I go to Davos is because you can meet with clients and regulators very efficiently, the debates are a side show! ?
. Davos Edelman Barometer: Business struggles to regain public trust; Banks particularly disliked; CEOs eyed with greater suspicion! Why? :-)~
. Davos: Lord Turner, chairman, FSA UK: Limit bank lending in specific sectors to stop bubbles threatening global stability http://ow.ly/117q0
. Davos: Insurers support banks against tougher regulation; concerned that new rules could hit their businesses too! http://ow.ly/116Vz
. Barclays' Diamond: consistent rules on capital ratios better way to guard against financial crises than limit bank size http://ow.ly/115cE
. Soros attacks 'tone deaf' bankers resisting Obama's reforms; joins growing calls for China to let its currency appreciate http://ow.ly/114ze
. Davos: Businesses miss point of social networks; They use them to transmit info to customers and not to listen to them! http://ow.ly/115mE
. Twitter hits 75 million member mark with an average of 6.2m joining each month - many accounts inactive, growth rate down http://ow.ly/10XF2
. Why isn't it clear to the Davos lot that trinity of globalisation, free market economics and financial innovation's over? http://ow.ly/10V7q
. Key Davos Questions ought to be: What of The Great Reset and The Great Unwind caused by Debt, Deleverage and Default? http://ow.ly/10UCK
[ENDS]

We welcome your thoughts, observations and views. To reflect further on this subject and others, please respond within Twitter, Facebook and LinkedIn's ATCA Open and related discussion platform of HQR. Should you wish to connect directly with real time Twitter feeds, please click as appropriate:
. @G140
. Open HQR
. DK Matai
Best wishes