Perfect Reason: Good Thing? Bad Thing? Who Knows?
London, UK - 28th May 2011, 11:15 GMT
Dear ATCA Open & Philanthropia Friends
[Please note that the views presented by individual contributors are not necessarily representative of the views of ATCA, which is neutral. ATCA conducts collective Socratic dialogue on global opportunities and threats.]
Mystics say everything happens for a perfect reason and nothing is either good or bad but our thinking makes it so. One of our favourite narratives illustrates ancient wisdom to reserve judgement; to remain in the present moment; to mitigate undue stress and worry; to avoid panic; and to have the courage to be moved forward regardless.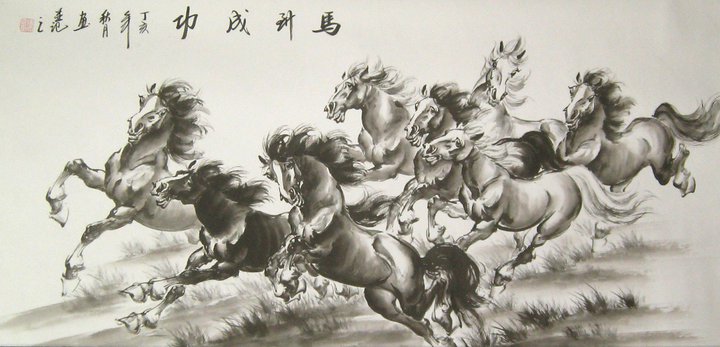 Eight Running Horses
Secret of Happiness?
Once upon a time, an old farmer lived in a valley with his son, a handsome and dutiful youth. They lived a peaceful life despite a lack of material possessions. They were very happy. So much so, that neighbours began to get envious and wanted to understand the secret of their happiness.
Savings and Loss?
One day, the old man used all his savings to buy a young and beautiful horse. The very same day he bought it, the horse jumped the fence and escaped into the hills. The neighbours came to express their concern, "Oh, that's too bad. How are you going to work the fields now?"
The farmer replied, "Good thing? Bad thing? Who knows?"
Double Fortune?
In a few days, his horse came back from the hills and brought eight fine horses with him. The neighbours again gathered around, "Oh, how lucky! Now you can do much more work than ever before!" they said.
The farmer replied, "Good thing? Bad thing? Who knows?"
Misfortune?
The next day, the farmer's son fell off one of the new horses and broke his leg. "Such misfortune," said the neighbours. The leg healed crookedly and left the son with a permanent limp and endless pain. The neighbours were concerned again, "Now that he is incapacitated, he can't help you around, that's too bad."
The farmer replied, "Good thing? Bad thing? Who knows?"
Tragedy?
Soon, the news came that war has broken out, and all the young men were required to join the army. The villagers were sad because they knew that many of the young men will not come back. The farmer's son could not be drafted because of his broken leg. His neighbours were envious: "How lucky! You get to keep your only son!"
The farmer replied, "Good thing? Bad thing? Who knows?"
And the narrative goes on...
Conclusion
Life will happen and continue evolving regardless. Things may seem bad, they may seem good. Only time can tell. What if we can alter our perception in the moment towards believing that there is a perfect reason for the way in which the universe is unfolding the way it is? In a nut-shell, everything that seems on the surface to be bad may be good in disguise. And everything that seems good on the surface may not always be so. What would life be like without our ad hoc judgements and negative narratives? We may not be conscious that we are looking at everything from a narrow viewpoint in doing so, but from the higher perspective what appears tragic can be the most appropriate way forward. Do you also have examples from your life of events that seemed good or bad to begin with, and in hindsight you changed your perception?
[STOPS]
We are hosting an Expert roundtable on this issue at ATCA 24/7 on Yammer.
[ENDS]
Expert Roundtables
Expert roundtables are the newly launched ATCA 24/7 Q&A private exclusive club service. They seek to become the killer application in strategic intelligence by delivering an unprecedented competitive advantage to our distinguished members. They can only be accessed online at https://www.yammer.com/atca
Q1: How to become a privileged member of ATCA 24/7 to participate in the expert roundtables?
A1: i. If you are a distinguished member of ATCA 5000, ATCA Open, The Philanthropia or HQR affiliated groups you may be allowed to become a privileged member of this new and exclusive private club.
ii. If you are pre-invited, visit the private intelligence network -- PIN -- by going to https://www.yammer.com/atca [Note: In https:// 's' is for security and encryption]
iii. If you don't have membership of the PIN yet, email the mi2g Intelligence Unit at intelligence.unit at mi2g dot com for an exclusive invitation.
Q2: How to participate in the expert roundtables and get domain-specific strategic intelligence questions answered?
A2: Access the ATCA 24/7 Private Intelligence Network -- PIN -- online and ask or answer a strategic intelligence question, no matter how complex. Receive expert answers within 24 hours or get pointers from:
i. ATCA 5000 experts who are online;
ii. ATCA Research and Analysis Wing; and
iii. mi2g Intelligence Unit.
Q3: Why is the ATCA 24/7 Q&A Exclusive Club special?
A3: ATCA 24/7 has now created an exclusive private intelligence watering hole and expert roundtable at the highest level where interesting and sophisticated questions are being asked from around the world, and intelligent answers are being provided, almost always by experts who have deep domain-specific knowledge. Come and check out the exclusive club, take it for a strategic test drive, which sign-of-intelligent life are you waiting for?
To learn more about "The Expert Roundtable: ATCA 24/7 Q&A Club" email: intelligence.unit at mi2g.com and if you are already a member visit https://www.yammer.com/atca
We welcome your thoughts, observations and views. To reflect further on this subject and others, please respond within Twitter, Facebook and LinkedIn's ATCA Open and related discussion platform of HQR. Should you wish to connect directly with real time Twitter feeds, please click as appropriate:
. @G140
. Open HQR
. DK Matai
Best wishes