Super Storm Attacks the US: Wall Street Shuts Down as Climate Chaos Impacts Financial Markets
London, UK - 29th October 2012, 8:55 GMT
Dear ATCA Open & Philanthropia Friends
[Please note that the views presented by individual contributors are not necessarily representative of the views of ATCA, which is neutral. ATCA conducts collective Socratic dialogue on global opportunities and threats.]
The United States, at least the eastern seaboard of the country, is under attack. Not from extremists, Iran, Cuba, North Korea, Venezuela or any of the usual suspects. The offender who dares to assault the world's only superpower is a super storm innocuously named Sandy. Is this the defining confrontation of the 21st century — between Humanity and Mother Nature — as long predicted and debated by distinguished members within ATCA 5000? Hurricane Sandy is yet another ambassador of Mother Nature, who no one can mess with; not even a superpower.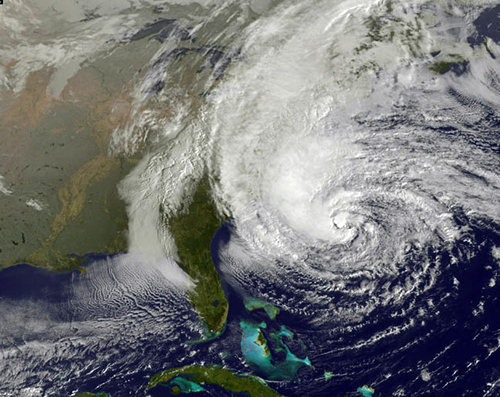 Super Storm Attacks the US
Alien Invasion? Unprecedented Impact of Mother Nature on Wall Street
At the time of writing this ATCA 5000 briefing, the super storm is still offshore but the scale of preparations is comparable to one for an alien invasion or a large-scale extremist attack. Wall Street is shutting down as the super storm — Hurricane Sandy — barrels down on the East Coast. This would be the first time trading has been halted in all US stocks and options since a four-day stretch after the 9/11 extremist attacks in 2001. The super storm is expected to slam into the US East Coast on Monday night — October 29th — bringing torrential rain, high wind, severe flooding and power outages.
Nature's Clarion Call for US Presidential Elections?
Within the insurance and reinsurance industry and amongst financial institutions there is some ongoing argument about what if any impact climate chaos is having on rising storm damage figures. A big hit from the super storm — Hurricane Sandy — may yet intensify those discussions even if the US presidential candidates haven't seen it fit to mention 'climate' in their debates. As if to remind US Presidential candidates that it is not a good idea to put global warming — or human aggravated climate chaos — on the backburner, Mother Nature appears to have let loose Sandy just in time to deliver a kick to the collective American psyche before the US Presidential elections. Poll pundits are wondering what effect a seriously disruptive storm could have on those elections for which voting starts next Tuesday, ie, November 6th.
Frankenstorm and Co-Conspirators
"The time for preparing and talking is about over," Federal Emergency Management Administrator — FEMA — Craig Fugate said on Sunday as Hurricane Sandy made its way up the Atlantic on a collision course with two other weather systems that could turn it into one of the most fearsome storms on record in the US. "People need to be acting now!"
Hurricane Sandy is being described as the largest storm ever to head to the US. A freak occurrence that involves the super storm meeting two winter fronts including an Arctic jet stream coming in from the north. This is expected to bring about a massive churn, the kind never seen before. It has therefore been dubbed a Frankenstorm. Its footprint is almost half the size of India's landmass, and its cover area when it hits the landmass is so vast, stretching from the two Carolinas all the way up the Atlantic seaboard to Connecticut and Massachusetts, and deep into Ohio in the west, that no one is even worrying about where the epicentre will cross over. At this stage and given the scale and scope of the super storm, it has become a minor detail.
Hurricane Sandy and its co-conspirators — a jet stream barricade to the west, a strong North-Easterly and a full moon that drives tides to abnormal heights — are not be be trifled with. The full moon on Monday could add 2 to 3 inches to the storm surge in New York.
NYSE, NASDAQ, Direct Edge and NY Commodity Trading to Shut
Both NYSE and Nasdaq Stock Market will suspend trading on Monday, October 29th, and indicated they might stay closed Tuesday, October 30th. Other exchanges, such as the all-electronic Direct Edge and the New York commodity trading floor of CME Group, are also going to be closed for trading. "We support the consensus of the markets and the regulatory community that the dangerous conditions developing as a result of Hurricane Sandy will make it extremely difficult to ensure the safety of our people and communities, and safety must be our first priority," the New York Stock Exchange (NYSE) said in a statement. The all electronic Nasdaq said the decision to suspend trading was made in consultation with regulators. CME Group said it will be closing its US equity index futures and equity index options on futures markets on the trading floor and on CME Globex at 8:15 am, Central Time, on Monday.
SEC Complaints and Joint Decision
There had been complaints on Sunday to the Securities and Exchange Commission (SEC) that keeping markets open – even using just electronic trading – could be complicated and unfair to customers. All of the US exchanges, as well as major broker-dealers, and regulators were consulted and got involved in the momentous decision to close the financial markets, according to several distinguished members of the ATCA 5000.
Bond and Forex Markets
The Securities Industry and Financial Markets Association — SIFMA — is recommending an early close of noon on Monday for the trading of US dollar-denominated, fixed-income securities or bonds. The foreign exchange market's activity generally follows the fixed income markets so it is also likely to shut down post noon in New York on Monday.
Central Bank Response
The New York Federal Reserve has calls scheduled for early Monday morning with dealers to see what each dealer is doing to cope with the super storm, and will modify its market activities accordingly. The Federal Reserve in Washington, DC, said it would postpone its regularly scheduled releases, including its weekly report on selected interest rates and daily commercial paper data. The Fed said it would release the data when federal offices in the Washington area reopened.
Transport Grinds to a Halt as Power Outages Expected
Thousands of flights in and out of eastern US cities have been canceled. New York City, which boasts America's biggest public transportation system, has also suspended all train and bus services. The scramble started early as the threat of the super storm forced the New York mass transit system to shut down on Sunday evening, leaving tens of thousands of personnel stuck at home. About 8.5 million commuters use the Metropolitan Transit Authority's transit lines daily, meaning most Wall Street employees would be unable to get to work. Authorities have warned of possible widespread power outages that could last for days. The Washington region's entire public transit system — Metro, Virginia Railway Express and the Maryland Transportation System — have also ceased operations.
Emergency Plans — Evacuation and Flood Zones — High Rises
Some financial institutions in lower Manhattan's financial district are in evacuation zones. As a result, most of America's biggest financial firms have told their personnel to stay away from high-rises that dominate lower Manhattan. Goldman Sachs and American Express both have headquarters in potential flood zones along with JPMorgan Chase, Bank of America and Wells Fargo. Wall Street financial institutions have activated their emergency plans, which many New York financial institutions put in place after the 9/11 attacks in 2001. New York City Mayor Michael Bloomberg has also closed public schools and ordered an evacuation of 375,000 people in coastal areas, including downtown offices of financial institutions.
Conclusion
The more serious long-term concern is how quickly the issue of climate chaos has fallen off the political radar. "According to a survey in this week's Time magazine, 85% of Americans think global warming is happening. The other 15% work for the White House," the comedian Jay Leno once joked, illustrating the casual approach of the American political class — Republican and Democrat — once they reach the corridors of power. Democrats appear to have joined the hands-off bandwagon with the Republicans. Will the unprecedented large-scale disruption caused by the super storm "Hurricane Sandy" impact any government policy in regard to climate chaos and global environmental degradation or will we yet again witness: plus ça change plus c'est la même chose?
[STOPS]
What are your thoughts, observations and views? We are hosting an Expert roundtable on this issue at ATCA 24/7 on Yammer.
[ENDS]
Expert Roundtables
Expert roundtables are the newly launched ATCA 24/7 Q&A private exclusive club service. They seek to become the killer application in strategic intelligence by delivering an unprecedented competitive advantage to our distinguished members. They can only be accessed online at https://www.yammer.com/atca
Q1: How to become a privileged member of ATCA 24/7 to participate in the expert roundtables?
A1: i. If you are a distinguished member of ATCA 5000, ATCA Open, The Philanthropia or HQR affiliated groups you may be allowed to become a privileged member of this new and exclusive private club.
ii. If you are pre-invited, visit the private intelligence network -- PIN -- by going to https://www.yammer.com/atca [Note: In https:// 's' is for security and encryption]
iii. If you don't have membership of the PIN yet, email the mi2g Intelligence Unit at intelligence.unit at mi2g dot com for an exclusive invitation.
Q2: How to participate in the expert roundtables and get domain-specific strategic intelligence questions answered?
A2: Access the ATCA 24/7 Private Intelligence Network -- PIN -- online and ask or answer a strategic intelligence question, no matter how complex. Receive expert answers within 24 hours or get pointers from:
i. ATCA 5000 experts who are online;
ii. ATCA Research and Analysis Wing; and
iii. mi2g Intelligence Unit.
Q3: Why is the ATCA 24/7 Q&A Exclusive Club special?
A3: ATCA 24/7 has now created an exclusive private intelligence watering hole and expert roundtable at the highest level where interesting and sophisticated questions are being asked from around the world, and intelligent answers are being provided, almost always by experts who have deep domain-specific knowledge. Come and check out the exclusive club, take it for a strategic test drive, which sign-of-intelligent life are you waiting for?
To learn more about "The Expert Roundtable: ATCA 24/7 Q&A Club" email: intelligence.unit at mi2g.com and if you are already a member visit https://www.yammer.com/atca
We welcome your thoughts, observations and views. To reflect further on this subject and others, please respond within Twitter, Facebook and LinkedIn's ATCA Open and related discussion platform of HQR. Should you wish to connect directly with real time Twitter feeds, please click as appropriate:
. @G140
. Open HQR
. DK Matai
Best wishes