Fellow Citizens of Planet Earth: We Request Help for Japan Solution
London, UK - 31st March 2011, 9:10 GMT
Dear ATCA Open & Philanthropia Friends
[Please note that the views presented by individual contributors are not necessarily representative of the views of ATCA, which is neutral. ATCA conducts collective Socratic dialogue on global opportunities and threats.]
Dr Masaru Emoto, the premiere Japanese scientist and water researcher, is asking all citizens of Mother Earth to focus with intent to transform the dangerous nuclear problem that is continuing to develop in Japan. High amounts of radiation has contaminated large amounts of water at one of the power plants and is starting to get into the environment.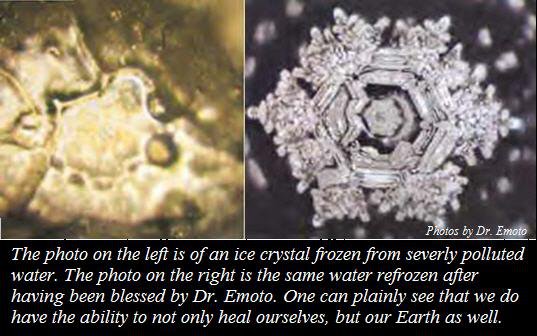 Water Crystals
Water's Healing Properties
Dr Emoto knows the power and ability of water to heal, transmute, transfigure, and purify toxins as demonstrated in his best selling series of books "The Hidden Messages in Water". So on Thursday, March 31st, at Noon, in each time zone, he is requesting that as many of us as possible perform the following simple prayer and invocation three times with our hands in the prayer position:
"The water at Fukushima Nuclear Plant,
we are sorry to make you suffer,
please forgive us,
we thank you and we love you."
I hope you can join us.
Goodness and Water
The highest goodness resembles water
Water greatly benefits myriad things without contention
It stays in places that people dislike
Therefore it is similar to the Tao
Dwelling with the right location
Feeling with great depth
Giving with great kindness
Speaking with great integrity
Governing with great administration
Handling with great capability
Moving with great timing
Because it does not contend
It is therefore beyond reproach
- Verse 8, Tao Te Ching, Lao Tse Tsu (~551 - 479 BCE)
This is an Holistic Quantum Relativity (HQR) Group initiative.
[STOPS]
We are hosting an Expert roundtable on this issue at ATCA 24/7 on Yammer.
[ENDS]
Expert Roundtables
Expert roundtables are the newly launched ATCA 24/7 Q&A private exclusive club service. They seek to become the killer application in strategic intelligence by delivering an unprecedented competitive advantage to our distinguished members. They can only be accessed online at https://www.yammer.com/atca
Q1: How to become a privileged member of ATCA 24/7 to participate in the expert roundtables?
A1: i. If you are a distinguished member of ATCA 5000, ATCA Open, The Philanthropia or HQR affiliated groups you may be allowed to become a privileged member of this new and exclusive private club.
ii. If you are pre-invited, visit the private intelligence network -- PIN -- by going to https://www.yammer.com/atca [Note: In https:// 's' is for security and encryption]
iii. If you don't have membership of the PIN yet, email the mi2g Intelligence Unit at intelligence.unit at mi2g dot com for an exclusive invitation.
Q2: How to participate in the expert roundtables and get domain-specific strategic intelligence questions answered?
A2: Access the ATCA 24/7 Private Intelligence Network -- PIN -- online and ask or answer a strategic intelligence question, no matter how complex. Receive expert answers within 24 hours or get pointers from:
i. ATCA 5000 experts who are online;
ii. ATCA Research and Analysis Wing; and
iii. mi2g Intelligence Unit.
Q3: Why is the ATCA 24/7 Q&A Exclusive Club special?
A3: ATCA 24/7 has now created an exclusive private intelligence watering hole and expert roundtable at the highest level where interesting and sophisticated questions are being asked from around the world, and intelligent answers are being provided, almost always by experts who have deep domain-specific knowledge. Come and check out the exclusive club, take it for a strategic test drive, which sign-of-intelligent life are you waiting for?
To learn more about "The Expert Roundtable: ATCA 24/7 Q&A Club" email: intelligence.unit at mi2g.com and if you are already a member visit https://www.yammer.com/atca
We welcome your thoughts, observations and views. To reflect further on this subject and others, please respond within Twitter, Facebook and LinkedIn's ATCA Open and related discussion platform of HQR. Should you wish to connect directly with real time Twitter feeds, please click as appropriate:
. @G140
. Open HQR
. DK Matai
Best wishes