Business Computing: The Second 50 Years
The Guildhall conference for Business Leaders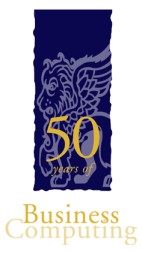 The Guildhall, London, England - 5th & 6th November 2001 - Proceeding
In 1951 J Lyons switched on LEO, the world's first business computer. They could not know what they were starting. Over the last 50 years businesses have invested trillions of Pounds in IT. What will happen in the next 50 years and how is this likely to affect your business?
DK Matai, Chairman and CEO, mi2g was invited to Chair the future of the "e" world session dedicated to Security Risks and Precautions on Monday 5th November at 2:00pm at The Guildhall. Some of the select speakers at this landmark event included:
Sir David Howard Bt, Lord Mayor of London
Andrew Pinder, the UK Government eEnvoy
George Cox, Director General, Institute of Directors
Geoff Unwin, CEO, Cap Gemini Ernst & Young
Michael Gough, Chief Executive, National Computing Centre
Alastair Macdonald, President, British Computer Society
Richard Hudson, Managing Editor, The Wall Street Journal Europe
Professor Subhash Bhatnagar, World Bank
Herman Hauser, Chairman, Amadeus Partners
Professor Brian Mellitt, President, IEE
Rudy Berger, Director, MIT Media Lab Europe
Professor Richard L Nolan, Harvard Business School
Professor David Mowery, Haas School of Business, University of California at Berkeley
Professor Anthony Giddens, Director, London School of Economics and Political Science
Conference Sponsors
First contact for additional information - Intelligence Unit, mi2g
Telephone: +44 (0) 20 7924 3010 - Facsimile: +44 (0) 20 7924 3310 - eMail: intelligence.unit@mi2g.com
© mi2g Ltd 2001. All rights reserved worldwide.